24/7 Emergency Response
Utilizing the latest advancements in GPS and cellular technology, we provide you with 24/7 Mobile
Emergency Response. Wherever you may be, an easy push of the emergency button or a call from your current cellphone will instantly connect you to our monitoring center.
What happens when a you pushes the emergency button or makes a call from your cell phone:
Two-way voice is instantly engaged—allowing the subscriber to speak with one of our highly-trained operators
Actual address (not longitude and latitude) is instantly determined
PSAP responder to the location is instantly provided to the operator
User profile of the subscriber is displayed on the operator's screen
---
Mobile Safety Concierge
With this service, a phone call to our monitoring center gives us the ability to locate the cell phone from which the call was made—even if the phone does not have GPS! This revolutionary technology can either retrieve the location from the phone's
GPS (if the phone is GPS enabled, which almost all phones are) or use triangulation technology. No app is required for this
service, because opening an app in a stressful situation is unrealistic and if the app has not been updated, it may not work
when it is needed the most.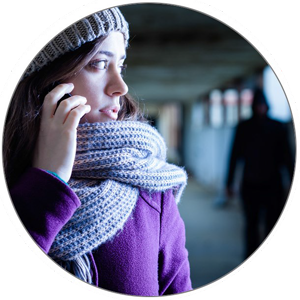 With Mobile Safety Concierge, your existing cell phone becomes a huge RMR opportunity. Here are a few reasons why:
This service works with any existing cell phone, on any cellular network—eliminating any hardware or cellular costs.
The device is already in your pocket—nobody wants to carry two different devices!
This service is tied to the phone number, not the phone or the cellular network—you still have the service even if you upgrade phones or change networks.
Mobile Safety Concierge is valuable for situations such as:
You may be in a possible dangerous situation, but are not sure and therefore do not want help if unnecessary. We will locate the subscriber and stay on the line, ready to dispatch help if needed.
If the call was made on a college campus, our operators are instantly provided with campus security information and
the PSAP responder. We can also provide mass SMS notification to every college student the instant an emergency
occurs.
Your car broke down and you are unaware of the current location? We can provide the location and connect
you to roadside assistance.
---
Mobile Personal Emergency Response System (MPERS)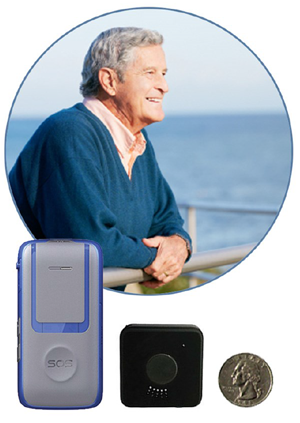 MPERS breaks the leash of traditional PERS systems, allowing you to enjoy an active lifestyle wherever you may be, knowing that with an easy push of the emergency button you are instantly connected to our monitoring center, where our operators can immediately determine your location. With our National PSAP integration, the appropriate emergency dispatcher is determined for the given location, anywhere in the country! Your profile also becomes available to our operators, allowing them to relate any medical or allergy information to the first responders.
With our wide range of MPERS services, you can connect your own products or select from our
extensive menu of turn-key solutions.
Included in these services is the a web portal, where you can:
Locate the MPERS devices and know where it is in real-time.
Set geo-fences and receive notifications (via email or SMS message) when the device enters or exists those areas. This is
an excellent solution for seniors with wandering issues.
With bread-crumbing, view a trail of where the device has been on a map.
---
Child Protection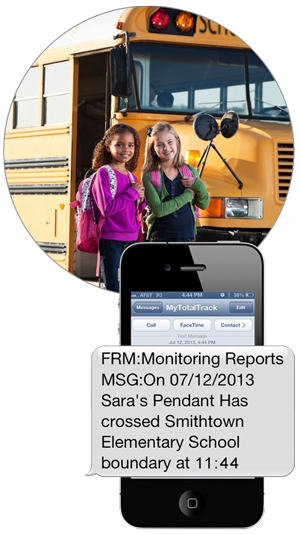 Parents want to know that their children are safe at all times, wherever they may be and with Emergency Response this is possible! By logging into the our portal, you can:
Know where your children are in real-time.
View a path of where they have been on a map.
Set geo-fences (such as schools, playgrounds and day-cares) and receive notifications (via email or SMS message) when the child arrives or leaves such locations.
In an emergency and the child triggers the emergency button, we connect directly to our 24/7 emergency monitoring center where our operators can pinpoint their location and instantly determine the appropriate PSAP responder for the location, and dispatch them if necessary. Our operators can also provide the responders with any pertinent information regarding the child, from special health needs to allergies to pediatrician phone numbers.
---
Protection on the Road
We provide the most complete vehicle tracking solution with geo-fencing and crash detection. This service is ideal for anyone who is constantly commuting or for parents with teenage drivers, who want to watch over their new drivers' habits on the road.
The TotalTrack OBD dongle takes you about 30 seconds to install—they simply plug it in and the device is ready for use!
We provide you with a web portal where you can:
Completely track all your vehicles in real-time: where it is, where is has been, and where it is heading—and at what speed it is going.
View vehicle travel history on a map.
Create and mange geo-fencing and receive notifications (either by email or SMS message) when the vehicle enters or exits such boundaries.
Create and manage speed thresholds and receive notifications (either by email or SMS message) when the vehicle exceeds the threshold.
In an event of a crash, we connect directly to our monitoring center where our operators can immediately determine the vehicle's location and contact the appropriate first responder agency for the given area.
---
Products for Your Health and Safety
| | | | | |
| --- | --- | --- | --- | --- |
| CO2 Detectors | Smoke Detectors | Medical Emergency Wrist Pendant | Flood/Water Detection | |